Six Steps to Reading Your Bible (DVD)
Six Steps to Reading Your Bible (DVD)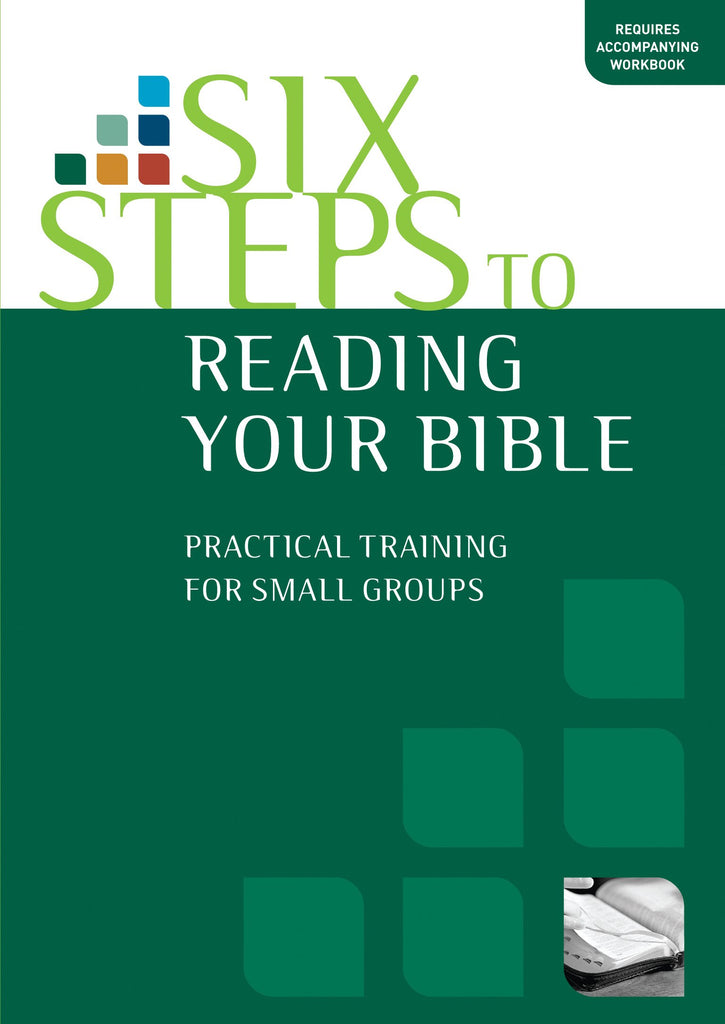 Six Steps to Reading Your Bible (DVD)
This six session, video-based course is ideal for small groups, and teaches the basics of the how and why of reading the Bible.
Participants will also need the course workbook. The video content is also available to purchase on Vimeo.
Description

Instead of regarding the Bible as "more to be desired than gold" and "rejoicing the heart", like David in the Psalms, somehow, for many of us, regularly feeding on God's word ends up in the same category as regular exercise: a healthy chore we know we should fit in and that we benefit from, but which is hard to manage amongst everything else, and ends up slipping off the agenda. As the Lord Jesus said of his sleepy disciples: "the spirit indeed is willing, but the flesh is weak".

Whatever your current Bible reading habits (or lack of them), and whatever your level of knowledge and confidence, Six Steps to Reading Your Bible will help you make progress in getting into your Bible. The course is especially designed for use in small groups, and utilizes a mix of video instruction, fun skits, Bible study, discussion, practical exercises, prayer and home assignments that will help you on the road to establishing a new and more enjoyable Bible reading habit.

Who can benefit?
Six Steps to Reading Your Bible is an ideal course for three groups of people:

People who are new to the Christian faith. It will give them a very valuable introduction to the place of the Bible in the Christian life, and a set of basic tools for getting started in reading it.
Those who have been Christians a while, but who have never had much training in simple but important Bible study principles.
Experienced Bible readers, who will find Six Steps to Reading Your Bible a valuable 'refresher' course, and will gain a healthy new vigor in their personal Bible reading.

Six Steps to Reading Your Bible is a course best undertaken in a small group (of 3-8 people).

To run the course you will need a workbook for each person, which also contains notes for group leaders, plus this DVD to use in the group. The video content is also available to purchase on Vimeo.


Over the six sessions of the course, you will:

become familiar with the basic shape and nature of the Bible
be motivated to read the Bible for yourself
learn how to apply basic reading skills to the Bible
learn how to apply a Bible passage to your life
understand how the whole message of the Bible hangs together and centers on Jesus
benefit from the encouragement and experience of others, as you work together in learning to read the Bible
be well on the way to establishing a new habit of regular Bible reading.

Outline of the six steps:


What is the Bible?

Why read the Bible?

Reading in faith

Reading what's there

Reading through Jesus

Reading for life

About the authors

Since founding Matthias Media in 1988, Tony Payne has written more than 30 books, ministry courses and Bible studies, including

The Trellis and the Vine, The Course of Your Life

and

The Tony Payne Collection: 

The best articles from three decades of Christian writing

. Along with his continued work at Matthias Media, Tony is also the Director of The Centre for Christian Living at Moore College. He is married to Ali, with five adult children, and five grandchildren. Tony is the DVD presenter.

Simon Roberts is also the co-author of the multimedia training courses Six Steps to Talking About Jesus, Six Steps to Encouragement and So Many Questions. He is employed by a church in Sydney where he runs their School of Ministry, which builds and equips congregation members for the work of service.
Details
| | |
| --- | --- |
| ISBN | 978-1-921441-14-1 |
| Format | DVD |
| Series | Six Steps |
| Chapters | 6 |
Sign up!