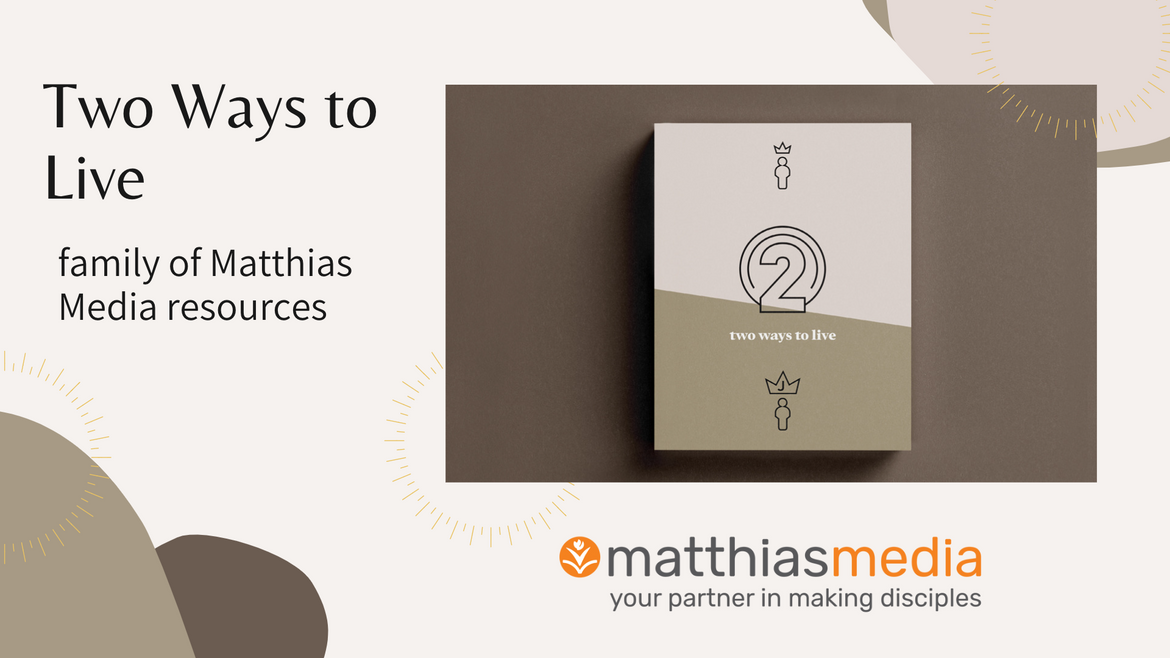 Two Ways to Live Family of Resources
The gospel is central to everything, and so is rightly central to our publishing ministry. That's why our carefully framed and memorable gospel summary—Two Ways to Live—is the basis of so many of our resources. 
In the New Testament, the gospel is the announcement that God's kingdom has arrived in the person of his Son, the powerful Messiah, who inaugurates his worldwide reign by dying and rising again so that repentance and forgiveness can be preached to all nations. This Jesus Christ now rules at God's right hand, from where he will come again to judge.
However, the arrival of Jesus does not occur in a vacuum. He arrives as the culmination of God's plans, and their outworking in history. He comes and dies and rises, "according to the Scriptures". He arrives in the context of all that God has already revealed about himself and humanity.
All this is part of the background or 'worldview' that the biblical authors took for granted, but which many people now do not share. If we are to know and tell the gospel in a world where these basic assumptions about God and human guilt are no longer shared, or even common, then we need to fill in some of the rest of the story. We need to provide some of the background.
This is what Two Ways to Live seeks to do. It fills in some of the wider story of the Bible, some of the biblical theology, so that the message about Jesus makes sense. It's the reason why Mark Dever says that Two Ways to Live is "the best short gospel presentation that I know of".
In six simple points, Two Ways to Live conveys the key information that the average unbeliever needs to understand in order to become a Christian. But the gospel is also for Christians, and Two Ways to Live provides enormous benefits for the task of establishing and equipping disciples as well. 
I urge you to get to know these members of the Two Ways to Live Family, because—like the gospel that they articulate—they are key to making disciples. As we like to say: disciple-making flourishes in the fertile soil of deep gospel clarity.
The Two Ways to Live gospel summary is the basis for three different kinds of resources: 
evangelistic resources to give away to unbelievers

evangelistic Bible studies and courses, and

evangelism training for Christians.
Evangelistic resources to give away to unbelievers
Two Ways to Live

itself is a point form summary of the gospel (with symbolic illustrations). But those summary points are helpfully unpacked in the

Two Ways to Live

evangelistic tract

(you can read the full text online at

twowaystolive.com

). This tract is by far the biggest-selling resource we publish, and all the more so since its finetune and refresh in 2022. The tract is also available in multiple other languages, including Spanish and Chinese. There is also a slightly simpler version of the tract called

Two Roads

.

Two Ways to Live

also provides the outline for a new evangelistic book by Tony Payne which adds extra depth to the explanation of the gospel (compared to the tract).

The Christian Gospel

is a short book that gives a full and persuasive account of the momentous news about Jesus Christ.

The

Two Ways to Live

tract has also been adapted and simplified to produce an explanation of the gospel that is particularly suited to children (or anyone who is better-served by the use of more concrete concepts and simpler vocabulary).

Who will be king?

is available in English, Spanish and Chinese. To heighten engagement with the ideas in the

Who will be king?

tract, we have also produced a

Who will be king? Activity Book

that kids can work through. Also available for children is an animal fable, called

Gumtree Gully

—a colorfully illustrated story featuring Australian animals, and offering a vivid and entertaining explanation of the gospel.

The Essential Jesus

is a fresh and accurate translation of the Gospel of Luke. But the Gospel story is introduced—and the gospel message summarized at the end—using the

Two Ways to Live

outline. This makes it a very effective evangelistic combination.
Evangelistic Bible studies and courses
 

One of the best ways to share the gospel with an unbeliever is to open up the Bible and show them what it says so they can discover it for themselves. If you only have an hour or so in which to do that, Two Ways to Live: a Bible study explaining Christianity is the ideal resource. It combines short passages, simple questions and explanatory text to link it all together.

But if your unbelieving friend or family member is willing to sit down with you over six sessions, rather than just one,

You, Me and the Bible

also works through

Two Ways to Live

in a more in depth Bible study format. It also has helpful summary videos to watch at the end of each study.

Introducing God

is a video-based course that explains the gospel to a group of unbelievers. Full training resources explaining how to best run the course are available. Many churches find this an excellent option to offer several times each year to visitors and contacts.
Evangelism training for Christians
 

There are two key elements to equipping Christians to share the gospel with those around them. First, they need to have a deep understanding of, and appreciation for, the message. And second, they need to be given some training in how to create and take advantage of opportunities they get to explain that message. Our twin training courses—

Learn the Gospel

and

Share the Gospel

—do those two jobs, using a combination of reading, Bible study, video input, discussion, and prayer. (

Find out more and watch some of the videos

)

Defending the Gospel: what to say when people challenge your faith

is a book by well-known Australian evangelist, Kel Richards. Kel provides clear answers to common questions and objections to the Christian gospel (based on

Two Ways to Live

), and equips the Christian reader to be able to engage well in conversation.

Know and Tell the Gospel

has come to be a modern classic book in Australia, yet many North American readers have also now taken to its clarity, simplicity and directness. It answers many of the questions people often have about evangelism with a winsome charm that is helpfully provoking.

The Gospel of the Kingdom

is one of the rare resources that we consider part of our ministry lineup that isn't actually published by us. Further, it isn't directly a

Two Ways to Live

resource. And yet it is so good and so helpful that we've included it here. For the gospel as distilled in

Two Ways to Live

to saturate your thinking, read this book.  It's a paradigm-changing book that is a true biblical theology of the gospel.