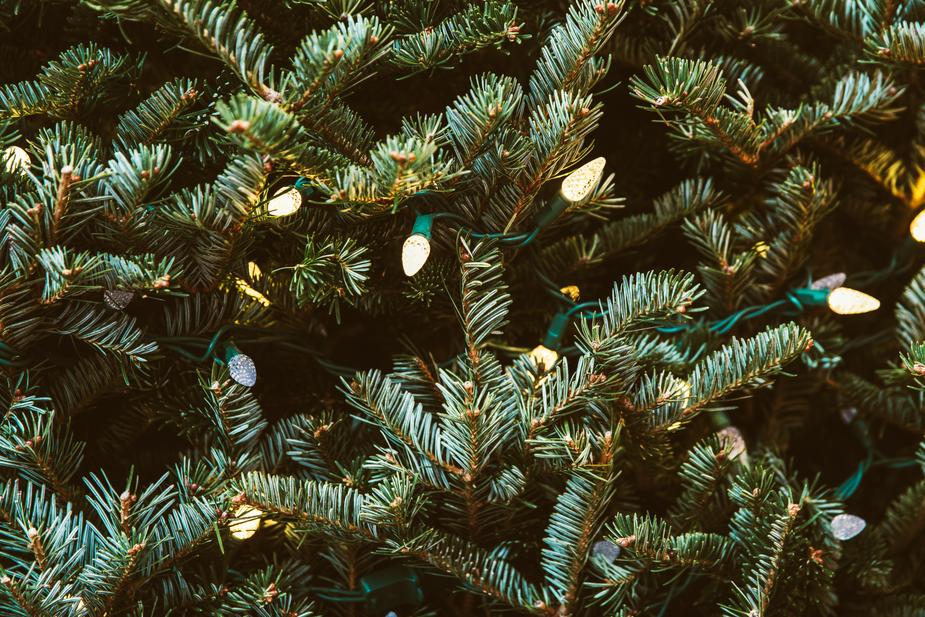 Christmas isn't Christmas without...
Even before we were engaged I made my future husband promise we'd get a live tree every Christmas. For me, it just isn't Christmas without a house that smells like pine and a carpet full of needles when it's all said and done. I don't think I've ever had a Christmas without gingerbread cookies. Certainly singing carols with my church family is near the top of the list. I'm certain everyone has their own list of requirements of varying degrees of meaning and importance. Christmas isn't Christmas without… What is it for you?

The joys these traditions bring are genuine and good. The anticipation and enjoyment of the many wonderful things Christmas brings are gifts from God. But at times, for a variety of reasons, we face Christmases without. Christmases that are missing more than just a real tree— missing a family member, spent in the hospital, out of work or unable to afford a fancy dinner or gifts for everyone. I don't think it's an understatement to say that this year, we all have had to or will have to give up something that, to some degree, we have always treasured as part of our Christmas season traditions. It's 2020, after all.

Yet, as Christians, we know Christmas is more significant than its celebrations and traditions. We know it's more than the goodwill that even the secular world embraces. We know all those things on our list—from the silly to the meaningful—are centered around the significance of the incarnation of our Saviour. We wouldn't have Christmas without Jesus. The birth of Christ and the mission he came to accomplish are the reason we celebrate.
I've been thinking this year that perhaps these 'Christmases without' help provide this much needed reminder. Because truth be told, we can have Christmas without the music, the lights, the gifts, the food… dare I say even without family or friends (and many Christians around the world must do so year in and year out). But we simply wouldn't have Christmas—or the rest of the gospel!—without God the son becoming flesh and dwelling with us as Immanuel.
This year as we face the prospect of having Christmas without some of our favorite things—the shopping, the candlelight service, family gatherings—it is a perfect time to remind ourselves and our Christian brothers and sisters of how central and necessary Jesus' birth is to our faith. We know all this, but maybe too well. It's so familiar it can simply be background noise. It's difficult among all the wonderfully celebratory and meaningful things to really dwell on the wonder of the incarnation.

Perhaps even more importantly, there are many people around us that have a long 'Christmas isn't Christmas without' list, and don't yet know the meaning and joy behind that baby's birth in Bethlehem. So this 'Christmas without' for them could be frustrating, painful or meaningless. They can't share in the silver lining of being pointed back to what really matters- because they haven't yet understood what really matters. That makes it the perfect time to reach out and share the unshakeable joy we have in knowing the gift of Christmas doesn't require any of the things on their lists after all.

The season presents endless opportunities for these conversations. This is true every year, but particularly this year as we constantly find ourselves in conversation around the disappointing or devastating changes this year has brought. It's an excuselessly easy open door that practically follows us around throughout December. But there are also countless wonderful resources for you to use as you choose how to put this idea into practice. And because it's the season of giving, it's a great time to put resources into the hands of anyone looking for a joy to hold on to.

For yourself and fellow Christians, consider reading Craig Hamilton's Made Man to better understand how the incarnation is life changing. Sinclair Ferguson's book Love Came Down at Christmas is a beautiful, easy to read advent book on 1 Corinthians 13. For a non-Christian friend, grab a couple copies of Kel Richard's Christmas Words Unwrapped as a conversational starting point. You can also suggest that they simply read through Luke, as it includes the true story of Christmas and introduces them to the gospel itself.