Travelling the World as Citizens of Heaven
Travelling the World as Citizens of Heaven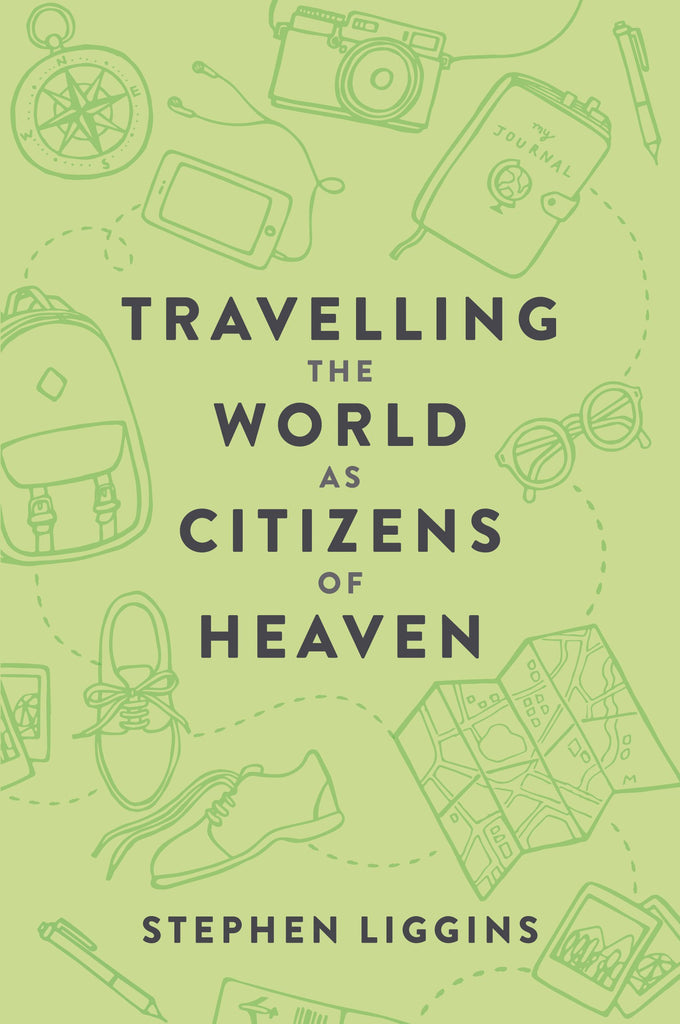 Travelling the World as Citizens of Heaven
God's world is an amazing place to explore, and more and more people are heading off to travel and experience it. But as we walk through the airport on our way to becoming citizens of the world, is there anything that marks Christians out as different? What does it mean to travel the world as a citizen of heaven?
Description

God's world is an amazing place. It boasts an incredible diversity of people, places, cultures, wildlife, and landscapes. And these days more and more people are heading off to travel or live overseas to experience it.

But as we walk through the airport on our way to becoming citizens of the world, is there anything that marks Christians out as different? What does it mean to travel the world as people whom the apostle Paul describes as 'citizens of heaven' (Phil 3:20)? How can we plan ahead to make our time overseas a positive rather than a negative for our spiritual life?

Author, pastor and experienced traveller, Stephen Liggins is your guide to thinking wisely and biblically about the what, why and how of overseas travel as a Christian.

Traveling the World as Citizens of Heaven is a must-read for just about any believer with a passport.

Recommendations

"In a world where travel and living abroad are increasingly taken options, this timely book both challenges and resources followers of the Lord Jesus to do so as a 'citizen of heaven'. Stephen provides good biblical sense as well as challenging perspectives as he discusses the why and how of traveling as a Christian believer. The book is a model of how to think biblically, theologically, and practically about a topic. It is easy to read, peppered with helpful, gentle, relational evangelism that is worth pondering irrespective of one's location or travel plans. It does not lecture but offers clear perspectives for consideration and would be an excellent addition to the Christian traveler's preparation as they plan their next trip."
- Bill Salier, Youthworks College, Sydney

"Thorough, grounded in biblical truth and wonderfully practical ' this is a book for every Christian who wants to think 'Christianly' about travel. Stephen's engaging stories about his own extensive travels excite the reader, but his thoughtful reflections in the light of Scripture give the reader pause ' and encourage the Christian to respond in the light of God's big-picture plans for his world and for us. How I wish it was written (and that I had read it) 30 years ago!"
- Jenny Salt, Sydney Missionary and Bible College

"Is the world a missionfield or minefield? The fields are white for gospel harvest but the travel industry appeals to our selfishness and short-sightedness. Steve Liggins (who has travelled more than most) gives some wise advice here to test our motives and to help faithful Christians 'seek first His Kingdom'. There are many traps to avoid and this book shows a safer path."
- Simon Manchester, St Thomas' Anglican Church North Sydney

"Stephen is that rare person, an inveterate traveller who is intentional about everything he does while faithful in living out his Christian discipleship. His book is packed with practical, godly wisdom, and should be as essential for travel preparation as getting the right jabs and checking your passport is in date. In fact, if our churches were filled with folks who lived it out without ever even leaving their home town, our corporate witness would be so much more compelling. All who take Stephen's wisdom to heart will find that keeping God at the centre of their travel will intensify its sense of adventure even more."
- Mark Meynell, Langham Partnership; All Souls, London; and former seminary teacher in Uganda

"Stephen Liggins love of travel is evident on almost every page of this book, as is his love of God's word and The Word made flesh. I found myself saying "o yea and amen" to his accounts of reunions with family and friends in other places, encounters with fellow travelers, and his experience of being awestruck by the beauty and diversity of this world. (His experience is much more diverse than mine). His advice, gently but firmly given, evoked similar responses. I found myself wishing I had read a book like this before I first travelled overseas in 1964 at the age of 19. It's advice worth applying in our daily journeys with God at home. So I recommend this book especially to youth leaders and to young Christians about to travel overseas for the first time independently of parents and older siblings. At the same time it is a good refresher course for golden oldies/ grey nomads like us. It's available as an e-book so take it with you on your travels."
- Christine Bradbeer, Australian customer
Details
| | |
| --- | --- |
| ISBN | 978-1-925242-11-9 |
| Format | Book |
| Series | |
| Chapters | 7 |
Sign up!