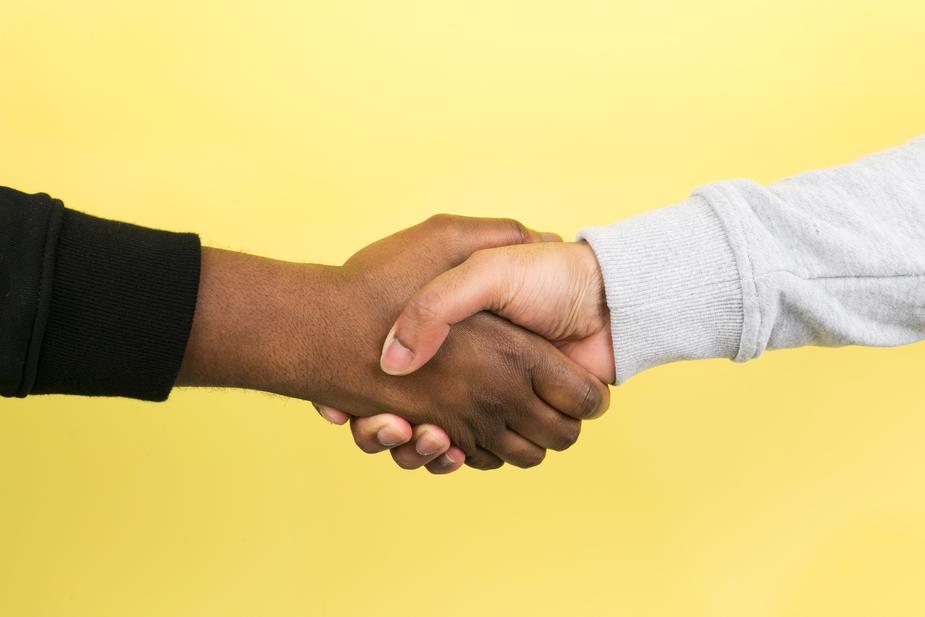 A time to embrace, or a time to refrain?
In Ecclesiastes 3, the Preacher writes, "For everything there is a season, and a time for every matter under heaven." The text, popularized by The Byrds 1965 hit 'Turn! Turn! Turn!' goes on to say, "There is a time to embrace and a time to refrain from embracing." When church doors open once again in a post-lockdown world, many people will be wondering, "Which time is it?" Will the hugs and handshakes—once common fare of Sunday morning fellowship—become a relic of the past? What should become of physical touch in our meeting places on Sunday mornings?
This societal moment, with its so-called "death of the handshake", is a moment of opportunity for churches to think with biblical wisdom about the way that physical touch and refraining from touch can be a means of communicating Christ's love.


The gift of physical touch
Physical affection is one of God's good gifts of creation. He made us with nerve endings to feel warmth and love from others. While the manner of touch may differ according to culture and circumstances, one thing is certain: appropriate physical touch is a means of showing affection. In fact, Paul's instruction to greet one another with a holy kiss, while likely a culturally conditioned greeting, is nonetheless an imperative. The type of touch may change, but the spirit of this command is that believers are to greet one another warmly with "brotherly affection" (Rom 12:10). A few verses later, this call to brotherly love is particularized with the instruction to "Rejoice with those who rejoice, weep with those who weep" (Rom 12:15). It is hard to conceptualize mutual joy and sorrow without God's good gift of physical touch. We hug one another next to a casket and bear-hug one another in times of joyful reunion. Affectionate touch is both the effect and the ongoing stimulus of familial love. 
How, now, shall we gather?
During a pandemic, love demands abstaining from the good gift of physical touch. Social distance, which inhibits loving touch, has oddly become a means of expressing sacrificial love. In submission to governing authorities and out of love for others, this is a time to refrain from embracing as Ecclesiastes 3 foretells. But when the stay-at-home orders are lifted and the church doors open, then what? It's likely that believers are going to show up with differing expectations. Some will cautiously slip into the back pew donning a mask and subtly exit early to avoid the risk inherent in fellowship. Others will return to worship like spring calves let loose in the pasture, hugging anyone within reach without a care in the world. But these differences, which will inevitably create awkward social interactions, are actually an opportunity for mature Christ-like love.
First, we can love one another by allowing for freedom of conscience. In a polarized world, this is an opportunity for righteous tolerance. The young, healthy, carefree soul may be prone to internally judge the mask-wearer who battles anxiety, and vice-versa. The church, however, should be a community in which we can affirm both the good gift of physical affection and the fallenness of this pandemic, understanding that these two realities will settle in the conscience of individual believers differently. There may be some who can no longer participate in showing physical affection at church without qualms of conscience, yet who will find other ways in good faith to obey the spirit of the Word by showing familial love to the fellow believers. The 'touchers' and the 'non-touchers' will need to guard against moralizing their viewpoint in superiority to one another. To apply the words of Romans 14:3, we might substitute the word 'hugs' for 'eats': "Let not the one who [hugs] despise the one who abstains, and let not the one who abstains pass judgment on the one who [hugs], for God has welcomed him."
A second way that physical touch in a post-pandemic world is an opportunity for love is that it provides a garden in which forbearance can grow. Outside the church, this pandemic is going to create some new camps. There will be the hyper-cautious who look upon the less cautious with incredulous disdain. On the other end of the spectrum, some will forever believe the pandemic was media hype. Inside the church, viewpoints will be divergent, but we must not divide into camps. We are the body of Christ, and as such we must be "eager to maintain unity of the Spirit in the bond of peace" (Eph 4:3). The handshake, or lack thereof, is a decision point for every believer. When a fellow believer either sticks out his hand or withdraws, that moment can be a dividing line or an opportunity. We can label people into their respective camp in that moment, or we can exercise forbearance with an eagerness to maintain unity and peace. By refusing to moralize one's preferred greeting over another, we have the opportunity every time we greet a brother or sister to maintain unity and the bond of peace. 
Third, this is an opportunity for the church to be distinct from the world by exercising gentle risk. While some in the world may declare the handshake dead and others may harshly criticize those who are afraid of touch, the church has an opportunity to be distinct. Believing that physical touch is a good gift of God, we are willing to take responsible risk to practice this gift within our church families. Yet, we re-initiate physical affection with creative gentleness, permitting for freedom of conscience. Those who are comfortable resuming physical touch, can show love and consideration by slowly ascertaining who would be offended and who would not be when they reach out their hand. Simple questions such as, "Can I shake your hand?" might be awkward initially, but are an opportunity to demonstrate the gentle sensitivity that ought to be pervasive within the body of Christ. While not letting go of the goodness of physical affection, our gentle respect toward one another can be a beacon of light in a fearful, harsh world.
Whether or not the handshake is dead remains to be seen, but brotherly affection will never die in the church. When church doors reopen, the body of Christ has a new opportunity to show mature, deferential, Christ-like love with every greeting we give. Is it a time to embrace or a time to refrain? It's a time for both, as we seek to consider the needs of others above our own in the spirit of Christ.